3/13/2020 ATTENTION LMS FAMILIES: An important letter will be going home with your student today regarding a technology plan for students in the event we transition to e-learning days. Please read the portion of the letter and check the appropriate responses, and return the form on Monday, March 16, 2020 to better accommodate your student's technology needs. Thank you!

Notice to LCUSD #12 Families: In the event of a district-wide shut down due to COVID19, we are working to create an e-learning plan. Please stay tuned for updates!

Just a reminder, Litchfield Schools dismissed at 1pm.

School closing for Litchfield CUSD#12 due to road conditions for Thursday, January 23,2020.



**Change to Early Dismissal Tomorrow** due to incoming weather, early dismissal will be at 12:00 for Elementary and 12:15 for LMS/LHS. This allows students to arrive home ahead of inclement weather.

REMINDER: Early Dismissal Friday, January 17 Elementary Dismissal @ 1:15 LMS & LHS Dismissal @ 1:30 NO PM Pre K Monday January 20 - No School in observance of the Martin Luther King Jr. Holiday

Holiday Break Schedule LCUSD#12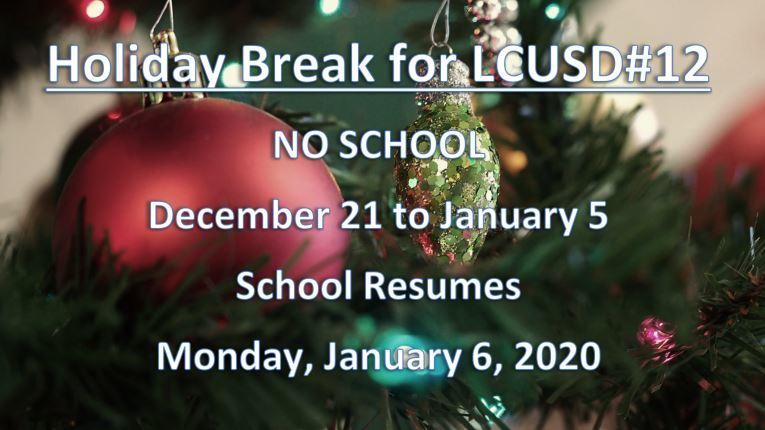 Holiday Break Schedule

Information regarding improved "Dining" info in the District App. Orginal info in our district Facebook Group (you must request to join). Click the image below if you don't want to join the FB group. To find the FB group, click here search for LCUSD#12 on Facebook!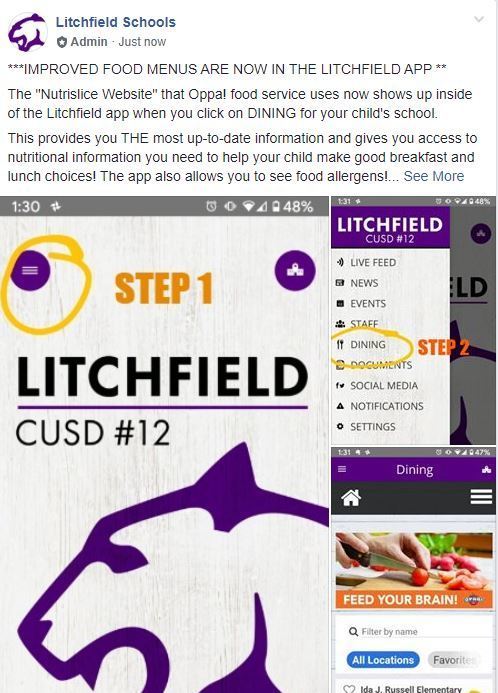 The Website our food service uses now shows up inside of the Litchfield app when you click on "dining" for your child's school. This provides you THE most up-to-date information and gives you access to nutritional information you need to help your child make good lunch choices!